Enjoy three full days on the Amalfi Coast before island-hopping to explore the stunning historic sites and monuments of Sicily and Sardinia. A late night in French-flavored Corsica gives you time for the Citadel as well as the bars and charcuterie in the lively port. Discover Spain's Balearic islands of Menorca, Palma de Mallorca and Ibiza, where you'll have an overnight stay to enjoy famous bars and clubs.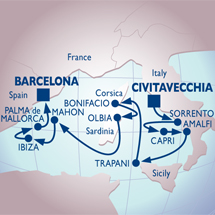 August 29 ROME Embark 6:00 PM
August 30 SORRENTO Tendered 8:00 AM 11:59 PM
August 31 CAPRI Tendered 7:00 AM
September 1 CAPRI Tendered 6:00 AM
September 1 AMALFI Tendered 9:00 AM 6:00 PM
September 2 TRAPANI Docked 8:00 AM 4:00 PM
September 3 BONIFACIO Docked 9:00 AM 11:00 PM
September 4 OLBIA Docked 7:00 AM 3:00 PM
September 5 MAHON -MENORCA Docked 1:00 PM 7:30 PM
September 6 IBIZA Docked
September 7 IBIZA Docked 2:00 AM
September 7 MALLORCA Docked 9:00 AM 7:00 PM
September 8 BARCELONA Debark 6:00 AM

Rome to Barcelona Mediterranean Island & Amalfi Cruise
August 29, 2012
10-night Azamara Mediterranean Cruise
OCEAN VIEW FROM $2699
BALCONY $3899
Rome to Barcelona Mediterranean cruise package discounts:
Free air credit up to $2000

Free up to $500 on board spending cash

Free ocean view to balcony upgrade

Free pre paid gratuities

Free wine with lunch and dinner

Free laundry service on board

Discount Rome port transfer
Book online now or call 800-227-1577 or email us for more details
To book online complete form below to pay the $1100 deposit:
If you book online all discounts will be applied and will be confirmed in the email confirmation we send.