You know you're sailing with Azamara when ten out of eleven nights on your voyage are late night or overnight stays! And a good thing, too, because every stop on this voyage will make you want to stay out late. In Florence the breathtaking art is indoors, while in Portofino it's on display in one of the world's most beautiful harbor and hillside settings. Soak up Cote d'Azur style in Monaco's Grand Casino or along the yacht harbor in St. Tropez. Feast on the Spanish flavors of Menorca and sophisticated Palma de Mallorca before an overnight stay in the vibrant city of Barcelona.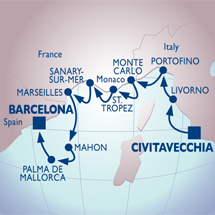 September 25 ROME Embark 6:00 PM
September 26 FLORENCE Docked 7:00 AM 10:00 PM
September 27 PORTOFINO Tendered 8:00 AM 11:00 PM
September 28 MONTE CARLO Docked 8:00 AM
September 29 MONTE CARLO Docked 2:00 PM
September 29 ST.TROPEZ Tendered 7:00 PM
September 30 ST.TROPEZ Tendered 11:59 PM
October 1 SANARY SUR MER Tendered 8:00 AM 11:59 PM
October 2 PROVENCE(MARSEILLES) Docked 7:00 AM 8:00 PM
October 3 MAHON -MENORCA Docked 1:00 PM 10:00 PM
October 4 MALLORCA Docked 9:00 AM 8:00 PM
October 5 BARCELONA Docked 8:00 AM
October 6 BARCELONA Debark
Rome to Barcelona Cruise along Italian Riviera & French Riviera
September 25, 2012
11-night Azamara Mediterranean Rivieras Cruise
OCEAN VIEW FROM $2799
BALCONY $3399
Rome to Barcelona Mediterranean Rivieras cruise package discounts:
Free air credit up to $2000
Free ocean view to balcony upgrade
Free up to $500 on board spending cash
Free wine with lunch and Dinner
Free laundry service on board
Free pre paid gratuities
Discount Rome port transfer
Book online now or call 800-227-1577 or email us for more details
To book online complete form below to pay the $1100 deposit:
If you book online all discounts will be applied and will be confirmed in the email confirmation we send.