Bask in the citrus-scented breezes of Sorrento, where a long afternoon in Piazza Tasso will have you dreaming of great writers and composers who sat here before you. Don't miss the extraordinary Temple at Segesta in Sicily, or the massive Roman amphitheater of El Jem in Tunisia, where it's easy to imagine gladiators and roaring crowds. A day at sea sets you on the second half of this voyage to colorful Spanish ports, including Mallorca, Cartagena, Malaga and vibrant Seville.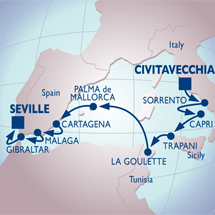 October 27 ROME Embark 6:00 PM
October 28 SORRENTO Tendered 8:00 AM
October 29 SORRENTO Tendered 6:00 AM
October 29 CAPRI Tendered 8:00 AM 10:00 PM
October 30 TRAPANI Docked 12:00 PM 7:00 PM
October 31 TUNIS Docked 8:00 AM 6:00 PM
November 1 AT SEA Cruising
November 2 MALLORCA Docked 8:00 AM 8:00 PM
November 3 CARTAGENA Docked 12:00 PM 6:00 PM
November 4 MALAGA Docked 8:00 AM 11:59 PM
November 5 GIBRALTAR Docked 8:00 AM 4:00 PM
November 6 SEVILLE Docked 11:30 AM
November 7 SEVILLE Debark
Rome to Seville Cruise
October 27, 2012
11-night Azamara Mediterranean Cruise
OCEAN VIEW FROM $2599
BALCONY $3799
Rome to Barcelona Mediterranean cruise package discounts:
Free air credit up to $2000

Free wine with lunch and dinner

Free laundry service on board

Free pre paid gratuities

Free up to $500 on board spending cash

Discount Rome port transfer
Book online now or call 800-227-1577 or email us for more details
To book online complete form below to pay the $1100 deposit:
If you book online all discounts will be applied and will be confirmed in the email confirmation we send.