On your Venice cruise to Dalmatian Coast you'll discover Diocletian's Palace in Split, and the lavender fields, medieval streets and gorgeous beaches of Hvar. Explore Dubrovnik's medieval walled city and walk the ancient ramparts that defended Kotor, a stunning town at the end of a beautiful wooded fjord. Puglia in southern Italy along the Adriatic offers unspoiled coastal beaches, sublime cuisine, and the opportunity to view trulli, distinctive teepee-roofed buildings from the Middle Ages. Enjoy all this on your Venice cruise to Dalmatian coast and Southern Italy.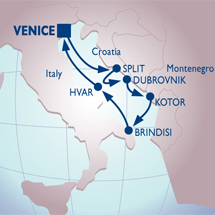 Venice Cruise to Dalmatian Coast
August 12, 2012
7-night Azamara Club Cruises
CRUISE FROM $1999
VERANDA FROM $2799
Venice Cruise to Dalmatian Coast luxury all inclusive Italy cruise package discounts:
Free up to $2000 Air Credit per person
Free Venice airport to port transfer
Free up to $500 on board credit
Free wine with lunch and dinner
Free laundry service onboard
50% off Shore Excursions
Free Pre Paid Gratuities
This is the classic Dalmatian Coast cruise. In a week's cruise in and out and among the wooded, walled, and fortified islands of the eastern Adriatic, we'll be able to see the great highlights of the region – Venice, Split, Dubrovnik, Kotor, and Hvar.
Your week-long cruise begins and ends in Venice. Visit Venice before or after your cruise to the Dalmatian Coast to pursue your own interests.
You will find the beautiful Dalmatian coast, and its historical coastal towns and islands breathtaking. Dalmatia alone has over 1,000 islands basking in the sun that, along with the coastal cities of Croatia, offer a wealth of art, architecture, culture and history.
Dubrovnik is 'the 'pearl of the Adriatic'. Enter the Pile Gate and walk the intricate web of streets and squares, down the marble-paved Stradon and around the 10th century stone city walls.
Split developed around the Roman Emperor Diocletian's Palace, and is a fascinating and typical Mediterranean city filled with markets, shops and cafes.
Cruise Kotor Bay past islands and under high mountains to medieval Kotor in Montenegro. This old walled town has ancient squares and alleys with attractive buildings, including the 9th century St Tryphon's Cathedral.
Call 800-227-1577 to book your Azamara Venice Cruise to Dalmatian Coast Luxury Cruise with Airfare Package