ItalyCruise.us has largest selection of Mediterranean luxury cruise packages at the lowest price – guaranteed!  We will meet or beat any luxury cruises Mediterranean deal quote, including the Mediterranean luxury cruise lines own deals.
ItalyCruise.us is known for its first-class customer service, plus its knowledgeable team that know every Mediterranean cruise itinerary, have traveled to every Mediterranean port, and are experts with regard to each cruise line. With ItalyCruise.us you have access to the best service at the the lowest price, which equals the best value in Mediterranean luxury cruises packages so that you enjoy a flawless Mediterranean cruise around Italy.
If you are considering a Mediterranean luxury cruise then you will want to be sure you make your plans through an ItalyCruise.us Mediterranean luxury cruise expert.  We know all the cruise lines and itineraries so we can direct you to exactly what you are looking for in seconds.
ItalyCruise.us also has direct relationships with the cruise lines, transfer companies, tour guides, and hotels. This way with one phone call or email to us you know you have a direct line into all your Mediterranean cruise travel needs. From your driver at the airport, to your driver to the cruise port, to the hotel concierge, we have personal relationships on the ground so your Mediterranean luxury cruise down to every last detail is planned to perfection with ease and efficiency.
To experience our superior customer service while enjoying our meet it or beat it price guarantee call us today 800-227-1577 to book you luxury cruises Mediterranean.
---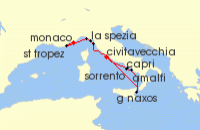 11-Day Cruise Along Italy's West Coast
September 2012 Mediterranean Luxury Cruise
Cruise to 8 Italian Ports
$2199+ per person
Free Pre paid gratuities
Up to $1000 per person air credit
Free wine with lunch and dinner
50% off shore excursions
Up to $500 on board credit
15-Day Adriatic Cruise Around Italy
October 2012 Mediterranean Luxury Cruise
Cruise to 7 Italian Ports
$3199+ per person
Free Shore Excursions
Free Pre Paid Gratuities
10-Day Luxury Mediterranean Cruises
Cruise Around Italy to Italian Ports
Cruise to 7 Italian Ports
FREE Airfare
FREE Pre-Paid Gratuities
2-for-1 Cruise Fares
FREE up to $1500 On Board Cash
10-Day Venice to Rome Luxury Cruise Around Italy
June 17 & August 19 Med Luxury Cruise
Cruise to 7 Italian Ports
$2699+ per person
Free Pre paid gratuities
Up to $1000 per person air credit
Free wine with lunch and dinner
50% off shore excursions
Up to $500 on board credit
Call us today 800-227-1577 or click here to email us to book your luxury Mediterranean cruise