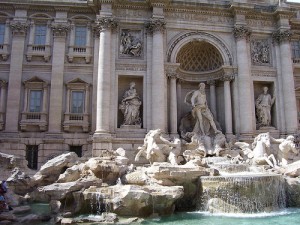 Rome Cruise from Civitavecchia cruise port sail around the Western Mediterranean Sea to Spain and France, and cruise around Italy to the Eastern Mediterranean Sea to the Greek Isles, Turkey, Croatia, and the Holy Lands. A popular Mediterranean Rome cruise itinerary is to sail along Italy's ports of call on a Rome to Venice cruise. With a focus on the Italian peninsula the cruise may visit Florence, Cinque Terre, and Positano on the Italian Riviera all north of Rome and south of Rome the cruise will sail to Naples, the Amalfi Coast, and Sicily before making a turn around the boot and up the Adriatic sea to Venice.
For best price on your 
Rome
cruise
 call us today 800-227-1577 or
email us now
.
FREE on board cash with every Rome cruise
Cruise Price*
FREE CASH**
$1500 – $1999
$75
$2000 – $2999
$125
$3000 – $3999
$175
$4000 – $4999
$225
$5000-$5999
$300
$6000-$6999
$400
$7000+
$525+
*Cruise price excluding tax and fees.
**Free Cash for on board spending
***Not combineable with other promotions
PLUS – on select cruises from Rome receive:
FREE Up to $1500 FREE on board credit

FREE port transfer to Civitavecchia
FREE pre paid gratuities
FREE on board cocktail parties, shore excursions and more


Rome cruise lowest price – guaranteed. Nobody beats our best Rome cruise prices!
Call us today 800-227-1577 to speak with a Rome cruise specialist.
---
Rome Cruise Information
Cruise From Rome around Italy and the Mediterranean from Rome Cruise Port Civitavecchia Cruise from Rome cruise port Civitavecchia, which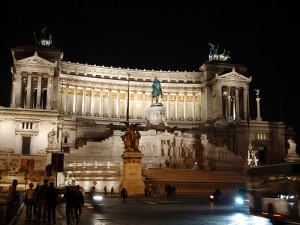 is located 50 miles from Rome's centro storico. Rome's cruise port Civitavecchia is translated as 'ancient town.' Civitavecchia is easy to reach for your Rome cruise with easy connections to Rome's centro storico, Tuscany, and Umbria.
Today Civitavecchia handles over two thousand ferry and Rome cruise ship movements per year, for nearly 2 million passengers, making it the third busiest Mediterranean port. Rome cruise departures for the Mediterranean,Turkey, greek Isles, Middle East and cruises around Italy offer a wide variety of Italy cruise itinerary from Rome Civitavecchia cruise port.
For Rome Cruise itinerary click right column to see cruises from Rome by month. In addition to on board credits ItalyCruise.us offers exclusive amenities on many Rome cruise itinerary.
Rome Cruise Tours
Looking for a cruise from Rome that combines with an Italy tour?  Click to check out our Italy cruise tours or contact Italian Tourism by calling 800-227-1577 or email a certified Italian Tourism Italy cruise expert and we'll combine a Rome Italy pre-cruise tour or Rome Italy post-cruise tour with a cruise from Rome to create the perfect Rome cruise tour just for you.
Italian Tourism has the lowest prices on Italy airfare for your Italy cruise and air package. And Italian Tourism Italy cruise experts always deliver the best Rome cruises at the lowest price
Rome Cruise Port Transfers Civitavecchia to Rome Center:
Civitavecchia to Rome by Train: Train to Rome is a convenient way to visit Rome's center while a cruise ship is in port at Civitavecchia.
Rail service from Civitavecchia to central Rome departs every half hour, and takes about 70 to 80 minutes.
Civitavecchia Car Transfers: Various companies provide private car service from Civitavecchia to visit the Lazio coastline like Ostia Antica as well to the center of Rome. For more information contact a Italian Tourism Italy travel agent.
Civitavecchia Cruise Terminals
Cruise ships dock at quays inside the outer wall. The quays for cruise ships are 11 (Traianea), and 12/12B/13A/13B (Antemurale Colombo). Sometimes number 25 (Commerciale) across the harbor is also utilized. Currently there are 3 cruiseship terminals, named the Bramante at pier 12, and temporary terminals at piers 11 and 25. Cruises from Civitavecchia normally use the piers adjacent to the cruise terminals.
Rome Cruises From Civitavecchia Rome cruises from Civitavecchia include most major cruise lines including Azamara, Celebrity, Costa, MSC Cruises, Oceania, Regent Seven Seas. Royal Caribbean, and Seabourn.
Rome cruise travelers looking for a Mediterranean cruise or a cruise around Italy have a wide variety of cruise choices, with Rome cruise itineraries heading west to places like Sardinia, the Cote d'Azur and Barcelona, and east to the Greek islands, Istanbul, the Holy Lands, and cruises around Italy.
Civitavecchia Sightseeing
As its status as the Port for Rome, the City of Civitavecchia is the gateway to one of the most beautiful and culturally fascinating cities in the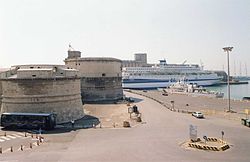 world. Most cruiseline passengers see little of the Civitavecchia in favor of taking shore excursions from Civitavecchia to Rome. But Civitavecchia itself has interesting sights deserving a visit, if you have a few hours to spend either side of your Rome cruise. Wander through the city center, preferably with a map, and you will spot remains of the old city walls, Benedict XIV's fountain, ancient buildings such as the old hospital, quaint squares and a lot of Italian life. So combine a stroll through the town with a seafront sunbathing session for a nice day around Civitavecchia before or after a Rome cruise.
Rome Cruise Port Points of Interest
Forte Michelangelo The 16th Century fortress named Forte Michelangelo towers imposingly over the port. It was commissioned by Pope Julius II and finished in 1535 by Giulano Leno. The central tower was designed by Michelangelo. Built on the remains of Roman barracks of the Imperial Fleet, the fortress is made from walls over 6 metres thick.
The Cathedral of San Francesco d'Assisi The architect Francesco Navona built the 18th Century Cathedral of San Francesco d'Assisi on an earlier 17th Century church. The Neoclassical-Baroque design of the building impressive. The church contains beautiful stained glass windows and frescos.
Civitavecchia Beach Steps from the seafront promenade, just opposite the train station, descend to a yellow sandy beach. The sea is remarkably clean and good for swimming.
La Scaglia Necropolis The La Scaglia tomb complex dates from the 6th and 5th Centuries BC. View these extensive underground workings The cool atmosphere will bring a chill to your bones.
Civitavecchia's Archaelogical Museum This is located in an eighteenth Century building once owned by Pope Clemente XIII and constructed for the papal garrison. It is a good place for the display of artifacts mainly of Estrucan and Roman origin.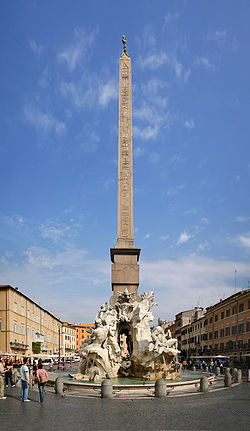 About Rome
Rome is the capital of Italy and the country's largest and most populated city and comune, with over 2.7 million residents. The city is located in the central-western portion of the Italian Peninsula, on the Tiber River within the Lazio region of Italy.
Rome's history spans over two and a half thousand years. It was the capital city of the Roman Kingdom, the Roman Republic and the Roman Empire, which was the dominant power in Western Europe and the lands bordering the Mediterranean Sea for over seven hundred years from the 1st Century BC until the 7th Century AD. Since the 1st Century AD Rome has been the seat of the Papacy and, after the end of Byzantine domination, in the 8th century it became the capital of the Papal States, which lasted until 1870. In 1871 Rome became the capital of the Kingdom of Italy, and in 1946 that of the Italian Republic.
After the Middle-Ages, Rome was ruled by popes such as Alexander VI and Leo X, who transformed the city into one of the major centers of the Italian Renaissance, along with Florence. The current-day version of St Peter's Basilica was built and the Sistine Chapel was painted by Michelangelo. Famous artists and architects, such as Bramante, Bernini and Raphael resided for some time in Rome, contributing to its Renaissance and Baroque architecture.
In 2007 Rome was the 11th-most-visited city in the world, 3rd most visited in the European Union, and the most popular tourist attraction in Italy. The city is one of Europe's and the world's most successful city brands, both in terms of reputation and assets. Its historic centre is listed by UNESCO as a World Heritage Site. Monuments and museums such as the Vatican Museums and the Colosseum are amongst the world's 50 most visited tourist destinations – the Vatican Museums receiving 4.2 million tourists and the Colosseum receiving 4 million tourists every year.
Traveling to the Port of Civitavecchia From Leonardo da Vinci Fiumicino Airport
Passengers booked on a Rome cruise from Civitavecchia usually fly in to the Leonardo da Vinci Rome Fiumicino airport.
From Fiumicino to Civitavecchia is about an hour by car, or two hours by rail. If you've not booked the transfer at the same time as your Rome cruise vacation, the following options are available:
Taxi to Civitavecchia A taxi ride from Leonardo da Vinci Fiumicino Airport to the Port of Civitavecchia costs around 150 euros one way. Taxis are available outside the arrivals terminal. It's a good idea to only use registered cabs (white cars with a taximeter).
Train to Civitavecchia Catch the train from the Leonardo da Vinci Fiumicino Airport to the Rome Termini train station. The journey takes about 30 minutes. Make sure you validate/punch your ticket before boarding the train. Then take the train to Civitavecchia cruise port – see below From Rome Center to Cruise Terminal.
From Rome Center to Rome Cruise Terminal Train from Rome Center to Civitavecchia The train to the Port of Civitavecchia runs from Rome's Termini train Station, situated in the center of Rome. Trains leave every half hour and cost about 11 euro per passenger. The journey takes between 70 and 80 minutes.
The Port is a ten minute walk from Civitavecchia train station. Turn right as you leave the station, and follow the road that parallels the sea front. Frequent signs confirm you are going the correct way. When you reach the entrance to the port, adjacent to the Michelangelo fort, you will find a bus stop. Here buses run to the actual cruise terminals/piers. Click for more Italy travel package ideas or for Italy video click Italy travel guide.
To learn more about a specific cruise around Italy from Rome, email Italian Tourism Italy Cruise experts or call 800-227-1577 to speak directly with an Italy cruise expert.
Rome cruise pre-cruise Rome holidays and post-cruise Rome holidays by Italian Tourism are an excellent way to begin or end your Rome cruise.
Call Italy Cruise 800-227-1577 or click here to email us to book your Rome cruise