Call us today 800-227-1577 to book your Italy cruise with the Italy cruise experts
ItalyCruise.us guarantees the lowest price on your Italy cruise, the best customer service… PLUS discounts on all Italian cruises including:
FREE cash back for you to spend on the cruise with every Rome cruise, Venice cruise, and cruise around Italy
FREE Rome transfer* from Fiumicino airport to Civitavecchia cruise port on select cruises from Rome
FREE Venice transfer* from Marco Polo airport to Venice cruise port on select cruises from Venice
 * Call us today 800-227-1577 or send us an email for details
---
Italy Cruise (ItalyCruise.us) and Italian Tourism (ItalianTourism.us) are the Mediterranean cruise from Italy and Italy cruise tour experts. We know and have traveled every Mediterranean cruise itinerary there is, on every ship, which means we can answer in seconds questions what will take other travel agents hours. And our Italy cruise experts provide first hand experience so that we can guide you to the best cruise around Italy and Mediterranean cruise from Italy. With ItalyCruise.us you are sure to have a hassle free Italy cruise vacation while enjoying an authentic Italy vacation.
Call us 800-227-1577 or click here to email us letting us know as much information as you have about your Italy cruise and we'll provide you the Mediterranean cruises that will fulfill your Italy cruise dreams.
In addition to our friendly service, through our knowledgeable team you'll have access to the best Italy cruise prices, guaranteed!
Call us today – 800-227-1577 – it's the first step toward planning the perfect Mediterranean Italy cruise
---
Italian Cruise Ports of Call: Explore Italy's Cruise Ports with a Cruise Around Italy
Italy cruise travelers visit not only Italy's great "cities of art," Venice, Rome and Florence, which have been attracting visitors for ceturies, but Italy cruise travelers also discover Italy's port cities all full of history, art, and clture.. And what better way to travel around Italy than on an Italy cruise. Explore the mosaics of Ravenna, the hidden gems of Palermo, the history of Cagliari, the Etruscan tombs of Tarquinia, and much more on an Italy cruise.
A Mediterranean cruise from Italy is a lovely way to tour Italy visiting several Italian cities in one trip, without having to pack and unpack or move from hotel to hotel – the cruise ship is your floating hotel. A Mediterranean cruise around Italy that visits several of Italy's ports won't give you an an-depth look at any one Italian port city, but a cruise around Italy is a good way to get a taste of the Italian cities, where you sample each Italian port city so that you may create an Italy travel itinerary for your next Italy vacation that focuses on the Italian cities you enjoyed on your Italy cruise.
Italy is a peninsula surrounded by the Mediterranean Sea and the Adriatic Sea, with various gulfs and islands to visit. There are several options for ports of call on an Italy cruise, depending on which cruise line and Italy cruise itinerary you choose for your Italy cruise.
Below you'll find a list of some of Italy's cruise ports of call visited on a cruise around Italy. Whatever your Italy cruise itinerary you are sure to enjoy the Italian ports on a Italy cruise.
Italy Cruise Ports

Agrigento
Italy cruise to the city on the southern coast of Sicily, it is renowned as the site of the ancient Greek city of Akragas, one of the leading cities of Magna Gracia during the golden age of Ancient Greece. Ancient Akragas dates back to the 6th century BCE. now excavated and partially restored, the Greek Temples constitute some of the largest and best-preserved ancient Greek buildings outside of Greece. Agrigento is a major Italy cruise and Italian tourism center with rich archaeological legacy.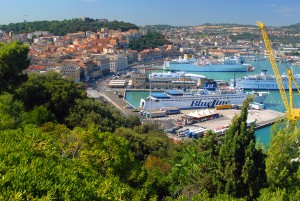 Ancona
Italy cruise to the port city of Ancona, on the east coast of Italy in ther region of Le Marche on the Adriatic Sea, is an off-the-beaten path Italy cruise destination. Cruise ships from both the Costa Crociere Group and MSC Group regularly stop in Ancona, although it's not a major port of call for most Mediterranean cruises and cruises around Italy. Right in Ancona there is evidence of both Roman and Greek settlements, and there is a hilltop cathedral in the city to visit on your Italy cruise.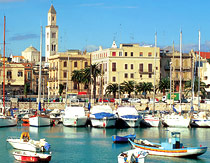 Bari
Italy cruise to Bari a major city in the southern Italian region of Puglia, the heel of Italy's boot. Bari and Puglia exhibit the confluence of many cultures that during the centuries have melted into a unique culture. Bari's centro storico, its old section isnice to wander. And the Bari art museum is full of treasures from ancient Roman, Greek, and Ottoman inhabitants. There are several churches, and a castle that dates from the 12th century. Bari also boasts a lovely beach on the adriatic coast to take swim on your Italy cruise.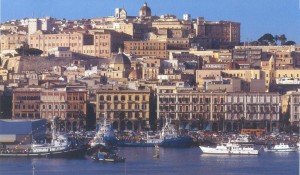 Cagliari
Italy cruise to Cagliari, which was the capital of the Kingdom of Sardinia (which in the 1861 became the Kingdom of Italy) from 1324 to 1720 and from 1798 to 1815. Cagliari is an important regional cultural, educational, political and artistic centre, known for its diverse Art Nouveau architecture, vibrant nightlife and several monuments. The old part of the city (called Castello, the castle) lies on top of a hill, with a wonderful view of the Gulf of Cagliari (also known as Angels Gulf).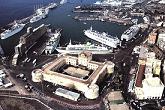 Civitavecchia
Italy cruise from Rome's cruise port located about 45 minutes outside Rome's centro storico literally means "old city" or "ancient city." Civitavecchia is next to Ostia Antica, Rome's first port built by the Etruscans and a Mediterranean trade route during Ancient Rome, where ships from Alexandria and Istambul arrrived. Today Ostia Antica boasts excavations of buildings and markets from ancient Rome that rival Pompeii. Civitavecchia is Rome's port of call where you'll embark and disembark on Rome cruises. Click to find a Rome cruise and cruises around Italy.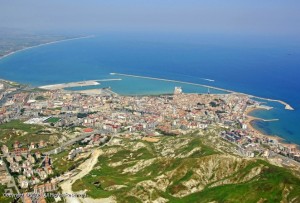 Crotone
Italy cruise to Crontone in Calabria, on the Ionian Sea, founded circa 710 BC as the Achaean colony of Croton. Crotone was long one of the most flourishing cities of Magna Graecia. Its inhabitants were famous for their physical strength and for the simple sobriety of their lives. Crotone hosts a national archaeological museum, a municipal museum, a municipal art gallery, and a provincial museum of contemporary art, as well as the Antiquarium di Torre Nao, all perfect day trips on a Italy cruise.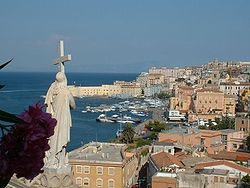 Gaeta
Italy cruise south of Rome in the region of Lazio Gaeta is a fishing and oil seaport, and a renowned tourist resort. NATO maintains a base of operations at Gaeta. Its main site Tis the massive Aragonese-Angevine Castle. There are also various churches and cathedrals built in gothic an dbaroque styles and a very nice town to walk around to enjoy a gelato or local seafood. Gaeta is also the centre of the Riviera di Ulisse, a park that includes Monte Orlando, Gianola, the Scauri Mounts, and the two promontories of Torre Capovento and that of Tiberius' Villa at Sperlonga, a quaint town to visit on a Italy cruise.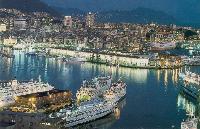 Genoa
Italy cruise to Genoa one of Italy's original maritime republics. The port of Genoa is a cruise port where many Italy cruises start or end for an Italy cruise or a Mediterranean cruise, so rather than looking for shore excursions from Genoa you might just be looking for things to do in the city before or after your cruise. The historic center is beautiful, and along with a selection of pretty churches Genoa is also home to Europe's largest aquarium and an excellent art museum to visit o your Italy cruise.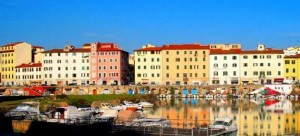 Livorno
Italy cruise to Livorno popular given its proximity to Florence, Lucca, Pisa, and the Ligurian Coast like Cinque Terre and Pietrasanta. Shore excursions to Etruscan sites are popular as well. Livorno is known as the Venice of the Mediterranean because of its canals that run through the city. Whether you decide to take a shore excursion into Tuscany or Liguria or decide to stay in Livorno you will have a lovely day. Click Florence Cruise to find a Livorno Italy cruise.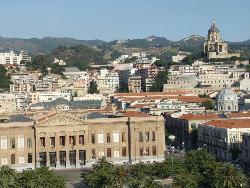 Messina
Italy cruise to the Sicilian port of Messina is the busiest in terms of passenger traffic, partly because of ferries back and forth from mainland Italy to the island of Sicily; but it's also the port Mediterranean cruises use for shore excursions to Taormina and Mt. Etna. Messina is famous for its cultivation of lemons, oranges, mandarin oranges,olives and wine. The Regional Museum is known for hosting notable paintings by Caravaggio and Antonello da Messina. The official Messina cruise terminal website is here to learn more about Sicily before your Italy cruise.

Naples
Italy cruise to Naples home to one of Italy's largest ports, offers passengers a wide variey of shore escursions. Naplesis the home of pizza margherita and limoncello, and is where Naples Archaeology Museum is located. Cruise passengers may take a shore excursion from Naples port to visit the Amalfi Coast, the island of Capri and Ischia,or across the bay of Naples to Pompeii, Herculaneum, and Sorrento. Click Naples cruise terminal website to learn more about Naples before your Italy cruise.

Palermo
Italy cruise to Palermo on the western side of Sicily is more easily reached when Italian cruises stop in Palermo. It's one of Sicily's major cities, and has many notable churches and historic sights, so it's well worth spending time right in Palermo if the shore excursions don't interest you. The official Palermo cruise terminal website is here to learn about Sicily and Palermo Italy cruise.
Portofino
Italy cruise just down the coast from Genoa, in the region of Liguria, is the picturesque postcard perfect town Portofino. While massive cruise ships can't get in close to Portofino, it's still a popular port of call. If the ship you're on can't get into the harbor, you'll be ferried from the ship onto the land. The "fine port" is typically full of yachts hosting the rich and famous so be sure to dress the part. Santa Margherita is another town popular among Italy cruise passengers.
Portovenere
Italy cruise to Portovenere another small town along the Ligurian coast just south of the Cinque Terre where the big cruise ships can't get into the harbor, so if Portovenere is on your Italy cruise itinerary you'll be ferried to the land from your ship. There is plenty to enjoy in Portovenere for the day, such as a hike up to the castle and a visit to the churches and the local stores. A Italy cruise "shore excursion" from Portovenere to Cinque Terre may be done by grabbing a water ferry in Portovenere to see the Cinque Terre by boat. The ferry will stop in four of the five hamlets so you may get off and get on to visit these seaside hamlets which are a UNESCO World Heritage Site (as is Portovenere).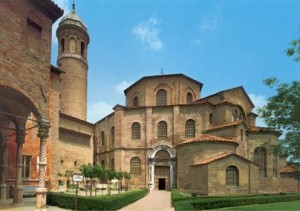 Ravenna
Italy cruise to Ravenna described as the city of mosaics, the city's long Roman and Byzantine history contributes to the beautiful artwork seen here. With a history that dates back to the Roman period, the port now serves as a gateway to those exploring Croatia's coast. The city has several UNESCO World Heritage monuments. This designation is due to the number of buildings and structures with renowned mosaic work. The archeaological zone includes the former Port of Classe.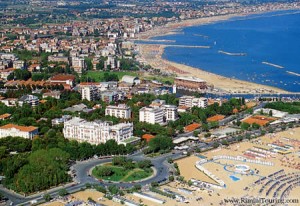 Rimini
Italy cruise to Rimini located on the Adriatic Sea, it is one of the most famous seaside resorts on the Adriatic Riviera. Previously inhabited by the Etruscans, Umbrians, Greeks, Gauls and Romans, it is rich with cultural history. In modern history Federico Fellini, the great Italian movie director may be its most famous inhabitant. Rimini is a popular Italy cruise destination for ships going to Croatia and Venice on a cruise around Italy.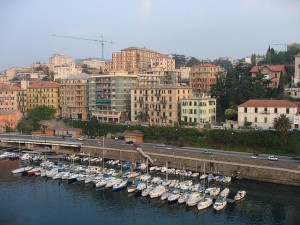 Savona
Italy cruise to Savona Italian port city 40 KM west of Genoa, 150 KM to the east of Nice, France, located on a beautiful stretch of Meditrranean coastline in the region of Liguria. Savona used to be one of the chief seats of the Italian iron industry, having iron-works and foundries, shipbuilding, railway workshops, engineering shops, and a brass foundry. One of the most celebrated former inhabitants of Savona was the navigator Christopher Columbus, who farmed land in the area while chronicling his journeys. 'Columbus's house', a cottage situated in the Savona hills, lay between vegetable crops and fruit trees. It is just one of many residences in Liguria associated with Columbus.

Siracusa
Italy cruise to Siracusa famous for its rich Greek history, culture, amphitheaters, architecture, and as the birthplace of Archimedes. This 2,700 year-old city played a key role in ancient times, when it was one of the major powers of the Mediterranean, when it was founded by Ancient Greek Corinthians it was allied with Sparta and Corinth, exerting influence over the entire Magna Grecia area of which it was the most important city. Once described by Cicero as "the greatest Greek city and the most beautiful of them all", it later became part of the Roman Republic and the Byzantine Empire, a fabulous Italy cruise destination.
Taormina (Giardini Naxos)
Italy cruise to Taormina midway between Messina and Catania. Taormina has been a very popular tourist destination since the 19th century. It's popular beaches (accessible via an aerial tramway) on the Ionian sea, which is remarkably warm and has a high salt content. Taormina sightseeing highlight is the ancient theatre (the teatro greco, or "Greek theatre"), which is one of the most celebrated ruins in Sicily, on account both of its remarkable preservation and of the surpassing beauty of its situation.it is frequently used for operatic and theatrical performances and for concerts.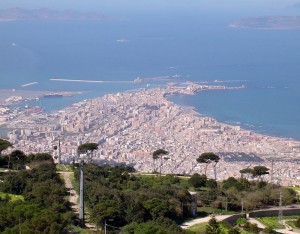 Trapani
Italy cruise to Trapani located on a low-lying promontory jutting out into the Mediterranean. Carthage seized control of the city in 260 BC, but ceded it to Rome in 241 BC following the Battle of the Aegates in the First Punic War. Two ancient legends tell of mythical origins for the city. In the first legend, Trapani stemmed from the sickle which fell from the hands of the goddess Demeter while she was lookking for her daughter Persephone, who had been kidnapped by Hades. The second myth features Saturn, god of the sky, who eviscerated his father Cronus with a sickle which, falling into the sea, created the city. In ancient times Saturn was the god-protector of Trapani. Today Saturn's statue stands in a piazza in the centre of the city a must-see on your Italy cruise.

Trieste
Italy cruise to the city of Trieste, close to the border it's almost in Slovenia, which means that shore excursions could technically take place in two different countries if you were so inclined. Trieste itself is a pretty port city, with a beautiful main square, a hilltop castle, and a cathedral worth visiting. It's also famously home to Italy's illy coffee company, so be sure to have a cup before you leave. The official Trieste cruise terminal website is here for more information about a Italy cruise to Trieste.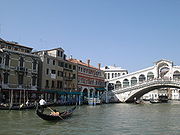 Venice
Italy cruise to Venice has its own cruise terminal, despite not being a big city. It is, after all, a city built upon and surrounded by water. Venice is one of Italy's four original maritime republics. A cruise from Venice typically cruises around Italy to Rome or Florence. The Italy cruise itinerary around Italy such as a Venice to Rome cruise is a classic Italy tour that will bring you to the great Italian ports including Italian cruise ports on the Amalfi coast like Sorrento where you may visit Pompeii, Capri, and Naples. Click to find a Venice cruise, a popular port of embarkation for a Italy cruise.
---
Italy Cruise – Cruise around Italy and the Mediterranean:
Mediterranean cruises around Italy offers an unforgettable experience! Italy cruises along the Italian Riviera, the romantic seaside towns of Italy, the great treasures of ancient Greece – these are just a few of the destinations you'll discover on an Italy cruise. Cruising around Italy gives you the ability to discover multiple Italian cities and Mediterranean countries during one voyage while never having to transfer your luggage from city to city and you always have the same accommodations onboard the ship. Italy cruises include ports in Rome, Venice, Florence, Amalfi Coast, and the Italian Riviera.
Choose from a variety of Italy cruises:
Western Mediterranean cruises sail among the cities and villages of Southern Europe from the Adriatic to the Straits of Gibraltar, including Venice, Naples, Civitavecchia (Rome), Florence and Pisa (Livorno), and Genoa, Italy, as well as Monte Carlo, St. Tropez, (France) Barcelona (Spain) and a host of other ports ranging from small villages to major cities.
Eastern Mediterranean cruises visit ports in Turkey, Greece and islands such as Rhodes, Santorini, Mykonos and Crete. Southern Mediterranean cruises visit the more exotic ports of call along the coast of North Africa from Morocco to the Holy Lands, including Tunis, Tunisia, Alexandria, Egypt and Haifa, Israel among others.
The Price of your Italy cruise includes:
The price of your Italy cruise ticket includes all of your meals and in-between snacks on-board; your stateroom, activities, parties and entertainment; plus, an exciting voyage to some of the most enchanting and culturally-enriching places in the world. You'll find that a cruise ship is a floating resort, with all the things a fine resort has to offer and more! You'll meet new friends who share the same tastes and interests as you. The hassles of an ordinary vacation are completely eliminated. An Italy cruise ticket is one convenient package. You don't have to worry about making dinner or nightclub reservations, running to make flight connections as you cruise around Italy from one destination to another, or packing and unpacking. Just enjoy Italy on your Italy cruise.
Italy Cruise Tips:
If you are flying a long distance to reach Italy, we suggest arriving at least one day prior to your Italy cruise. Italian Tourism can help you find accommodations before and after your Italy cruise that include all your transfers between the hotel, cruise ship and airport. Italian Tourism also has great Italy cruise pre-cruise Italy travel packages and Italy cruise post-cruise Italy travel packages so you may extend your stay in one of Italy's magical cities like Rome and Venice after your Italy cruise.
For more information about Italy cruise call Italian Tourism 800-227-1577 the Italy cruise experts to find out more information or to speak to an Italy cruise expert agent to find your Italy travel package and Italy cruise.